Magic, laughter, charity 'Comegician' has hat full of tricks
By Shane Weller . What's Up Writer | 0 comments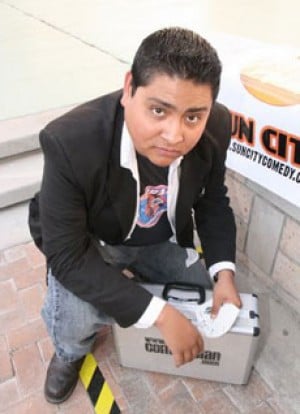 Gibran Saab, a.k.a. Gibran The Comegician, has been gaining laughs at local clubs by blending comedy and magic on stage for the past two years.
Now he is using his talents to benefit local charities and is encouraging others to do so by getting involved with Sun City Comedy. The group has been helping charity for months now and is gearing up for a show Tuesday at UTEP's Union Cinema.
Before founding the group, Gibran, 26, was already turning heads. His onstage persona, a cocky magician who falls short of his high self-image, hits on unsuspecting female volunteers and uses the typical magic prop kit (knives, rope, handcuffs) with a few unconventional additions (vibrator that doubles as a magic wand).
His bawdy style turned enough heads to make him a potential candidate for Comedy Central's short-lived remake of "The Gong Show."
"I couldn't do it because I have my regular job," he says, referring to his software engineering gig. "But I got a call that they saw my act on YouTube and they asked me to send a tape or a DVD with all my stuff. I sent it and they gave me a call back, but it conflicted with my schedule very, very badly."
Afterward, the magician-turned-comedian decided to be a part of a local support network that would get him and others recognized for their talents. Sun City Comedy was born.
"A lot of comedians I work with, their aspirations are like, I wanna do the Comic Strip and I wanna work the comedy clubs,'" he says. "Well, we can help: We set up workshops, we give them time on stage so they can practice and get good enough for the Comic Strip or places like it."
The group has been putting together free shows on Saturdays at British Bulldog Pub in El Paso's Eastside. Victor Cruz, a popular radio DJ at 92.3-FM "The Fox," has hosted some of the open mic sessions at Bulldog Pub.
"Being a fan of comedy I like it when you get some new upstarts," Cruz says. "I think Gibran and Sun City Comedy have a great take on what needs to be done with comedy in El Paso."
Anyone involved in comedy, from filmmakers to photographers, can get involved with Sun City Comedy. In an initiative called Comedy For a Cause, the group donates the proceeds earned from events to local charities.
The group has gained recognition by the County Court Commissioners for donating time and photography to the El Paso Foster Parent Association.
"It was really cool being recognized by the county," Gibran says. "You get the plaque and everything. It was awesome."
The comedy show on Tuesday will benefit Reynolds House, a center for homeless women and children.
"There are a lot of people who don't know what the Reynolds House is," Cruz says. "It's really good to get yourself involved in lesser-known charities because sometimes they risk falling through the cracks and not being as noticed as some of the bigger charities that we know of."
Dorothy Traux, the director of the Reynolds House, says she is thankful for the support.
"I think it's wonderful for any group to give up their time to help families in need. We don't have many resources and we are really hopeful that their efforts will bring in donations."
At a $5 cover, the show is a bargain; guests who bring either a household cleaning product or personal hygiene item will be given $1 off admission. You can learn more about The Comegician and other local comedians by visiting suncitycomedy.com.